The 2017 Fires completely destroyed our Lovely Wine Country Retreat Overlooking the Valley of the Moon Sonoma Valley
Below are photos to remember what it was…See Cinque Terre Fire tab to see photos taken after the devastation.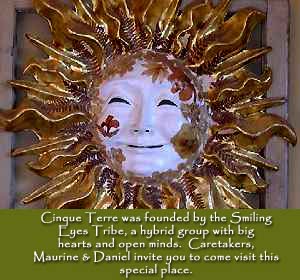 Click on Sunshine above to view photos and keep clicking to view gallery.
We were approved by the Small Business Administration for a loan so it looks like we will rebuild. It won't be the same rustic, unconventional emergence it was before but we are blessed to be approved for this loan. We plan to do something very simple and maximize the outdoor beauty. The bliss of nature on 12 acres is still there…very few trees burned as the fires went for man-made structures.
mo@smilingeyestribe.com
phone: (650) 344-1403